How to add, edit, distribute, or delete evaluation criteria.
Available for plans: Free, Team, Business
Available for roles: Admin, Owner
A criterion is a principle by which board users evaluate issue priority.
There are 'Shared' criteria available to everyone added to the board, and there are 'Team' criteria available only to certain people added to a specific team (e.g. Product managers and marketers). Under 'All', you can see all the criteria in the board.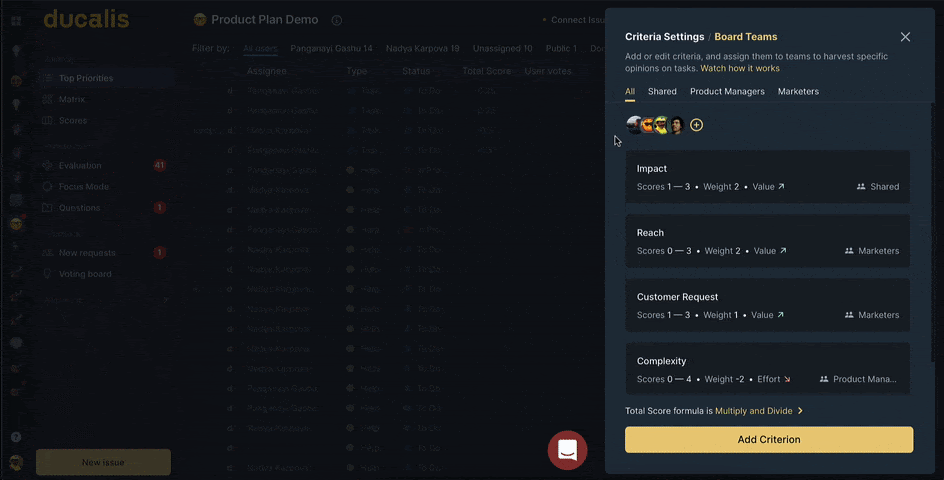 ---
To Create a Criterion
Inside a board, hove over to the left-side menu and click on 'Criteria' to access the criteria settings.

To start creating a criterion, just click on 'Add criterion'.

Type the criterion 'Name'.

Choose or create the team you want to assign this criterion to. This will help to improve the prioritization results as a team will evaluate the criterion using their expert opinion.

Set if it's a Value or an Effort criterion.

This is important for the Matrix quadrants and for the formulas 'Value Product divided by Effort' and 'Value Sum divided by Effort'.

Set the Weight according to how important this criterion is relative to other criteria.

You can use any positive or negative whole or fractional number.

Don't use negative numbers for Effort criteria if you're using the 'Value Product divided by Effort' or 'Value Sum divided by Effort' formula.

Set the Scores.

You can set Range, Sequence, Percent, or Positive scale.

Add the criterion Description to help your teammates understand the criterion better when they will be evaluating.

Click 'Add'.
---
To Edit or Delete a Criterion
Hover the mouse over the criterion you want to edit/delete and click the edit or delete icon.

To Edit: change the settings and click Save.

To Delete: click Ok.
---
Change the team a criterion is assigned to.
When editing a criterion, you can change the team that is assigned to exclusively evaluate it.
Click on the edit icon.

From the teams drop down list, choose the team you want to assign the criteria.

Or create a new team to assign this criterion.
---
If you have any questions, please contact us in the chat bottom right corner.