To help you keep your priorities up to date. You have the ability to receive notifications for various reminders and board activities from your Ducalis board. You receive notifications on:
Reminders to evaluate.
Upcoming meetings
Questions or replies from your teammates.
Updates on issues you're assigned, or watching.
Changes on criteria and board formula settings.
Notifications help you to:
Keep you reminded on any issues that need to be evaluated for prioritization.
Create a prioritization habit.
Enhance your collaborative experience in Ducalis.
The notifications are received as emails or as messages to your Slack channels (if you integrate Slack with Ducalis).
Slack Notifications
Notifications received in Slack are public reminders, they are received by everyone at the same time in a Slack channel. You can choose the day that you want to receive them, for example a day or two before your planning meeting so that everyone is reminded to complete their evaluation before the planning meeting.
The reminder comes as a single message containing:
The number of issues each user has to evaluate.
The number of questions a user received from other users.
Appreciation message for each user who has evaluated all the issues.
Check instructions on how to set Slack notifications here.
Email Notifications
Users in the board also receive email notifications for various happening in the board. Some of these emails include:
Evaluation reminders.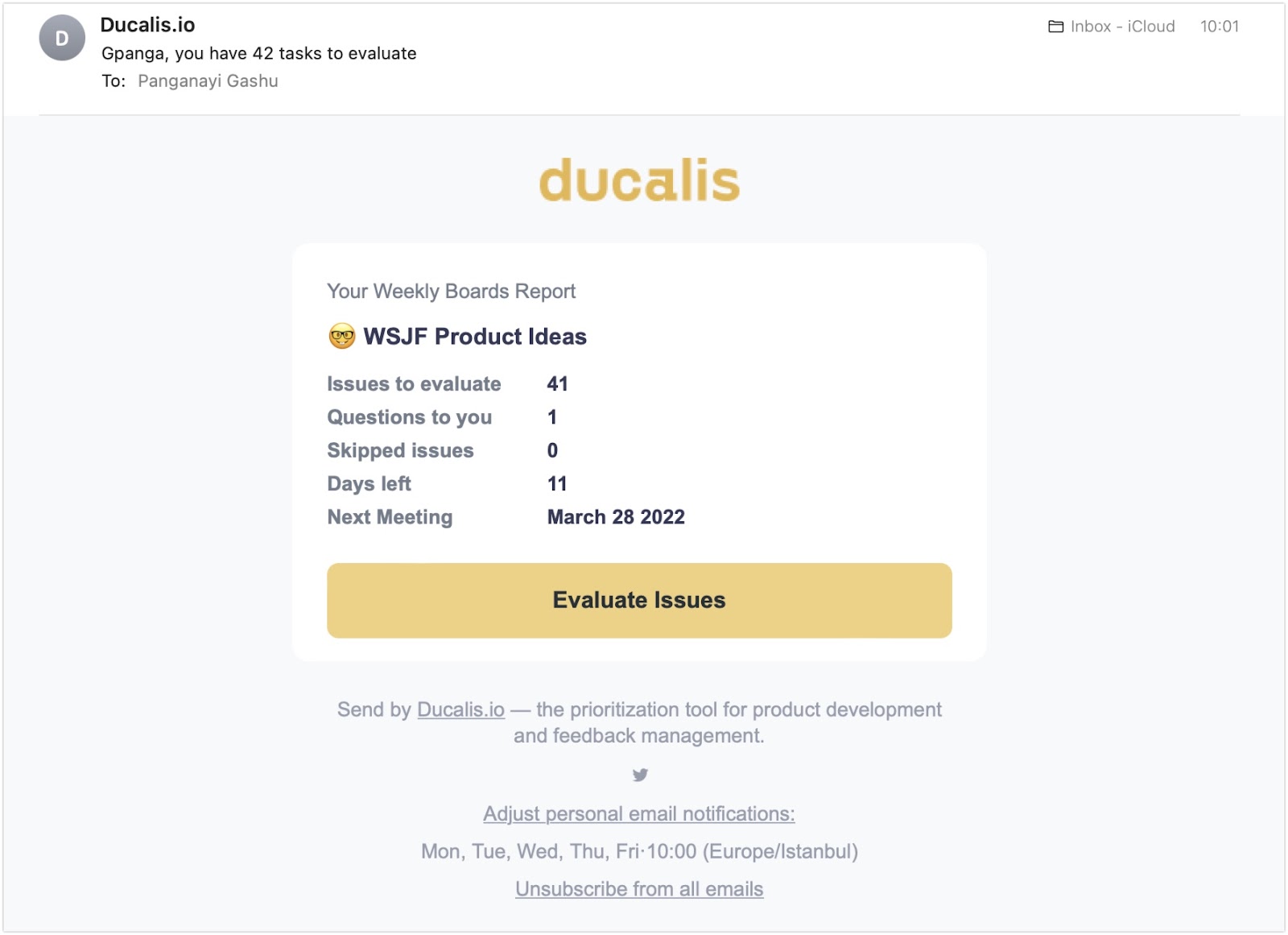 The team's evaluation progress.
Questions and comments on the issues a user is discussing with their teammates.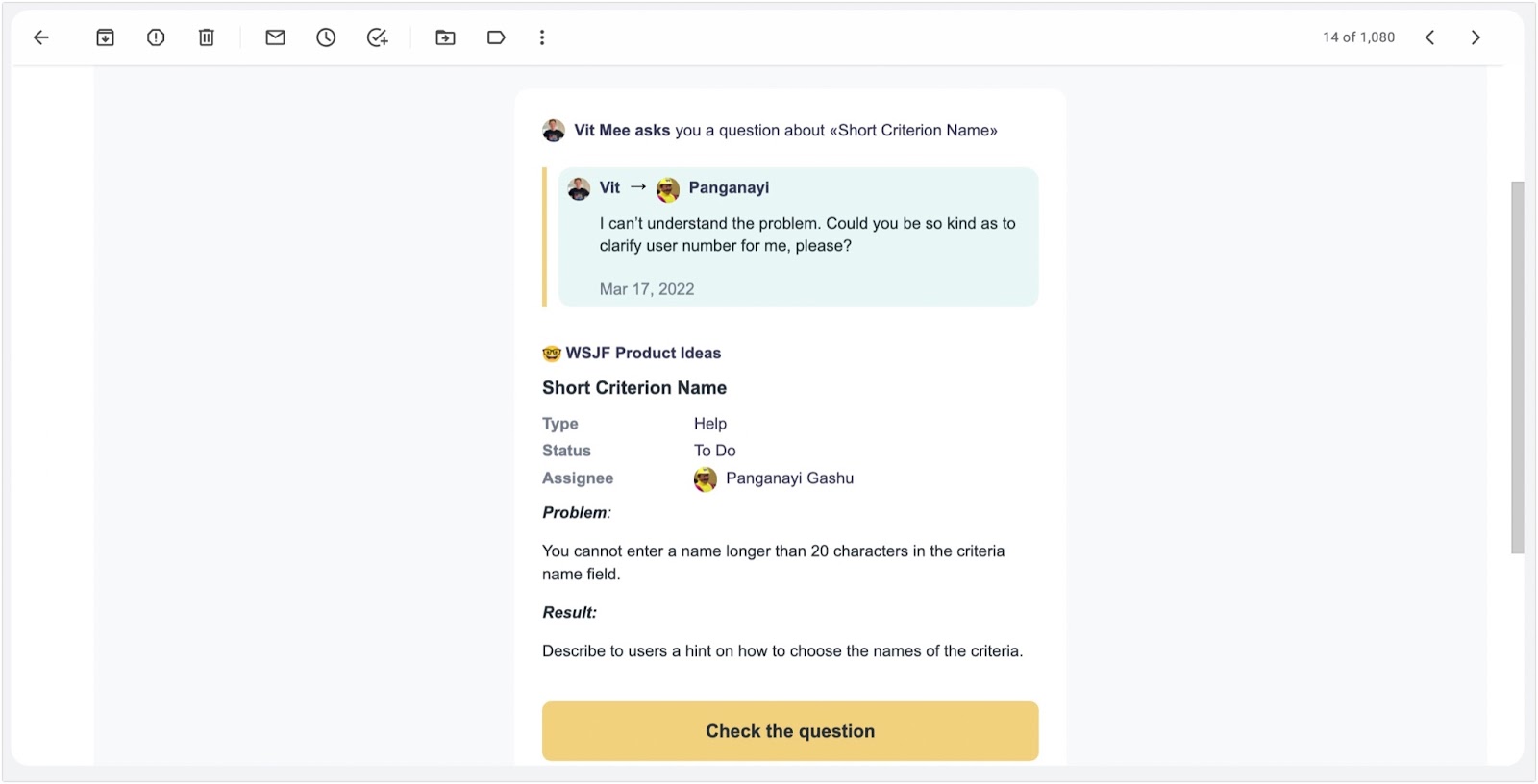 Board settings changes: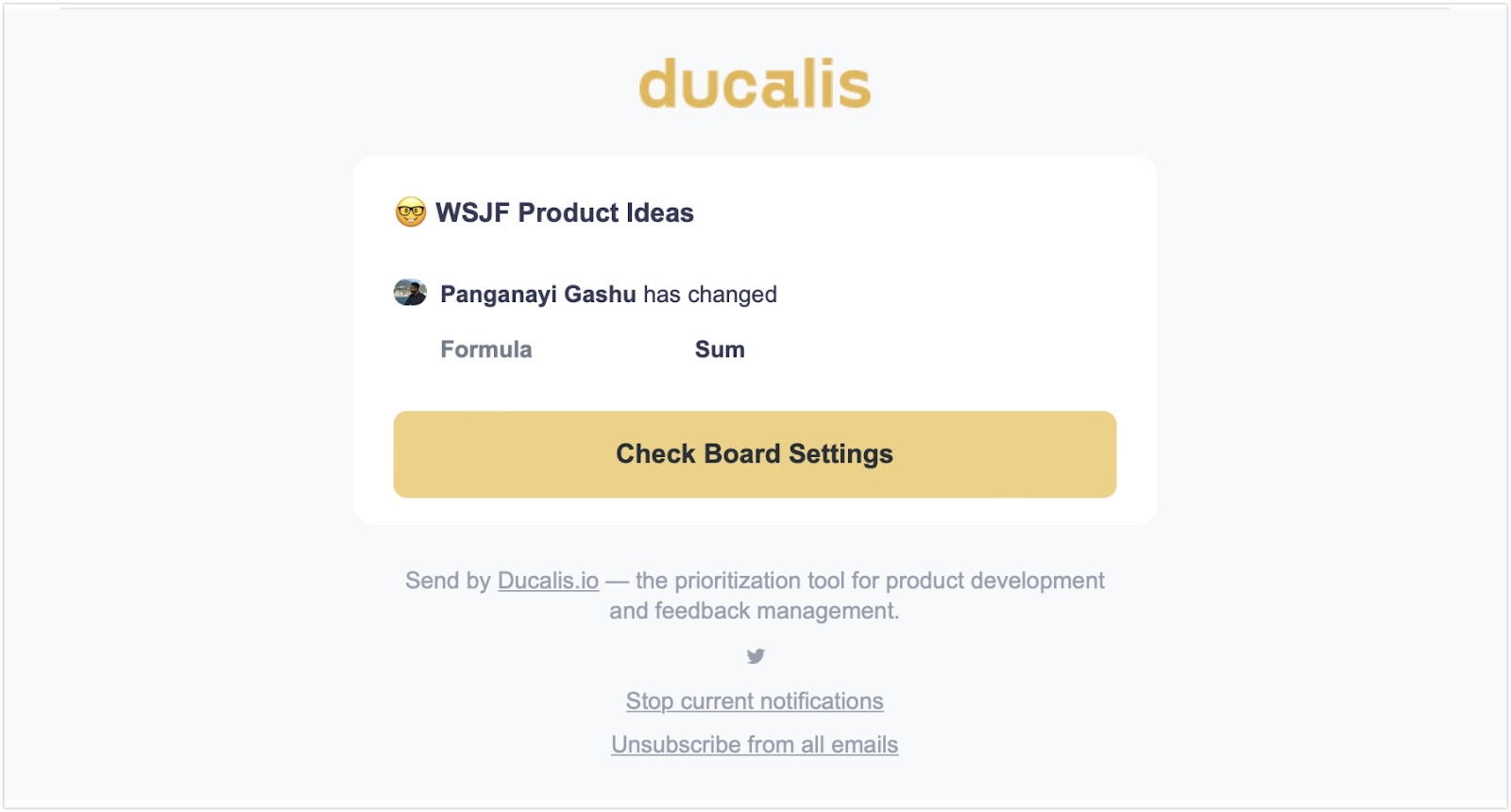 Configuring Email Notifications
Users in a board have the ability to configure the email notifications according to their liking.
Go to notification settings, which you can access from:
The dashboard. On the left-side menu find and click on Notifications.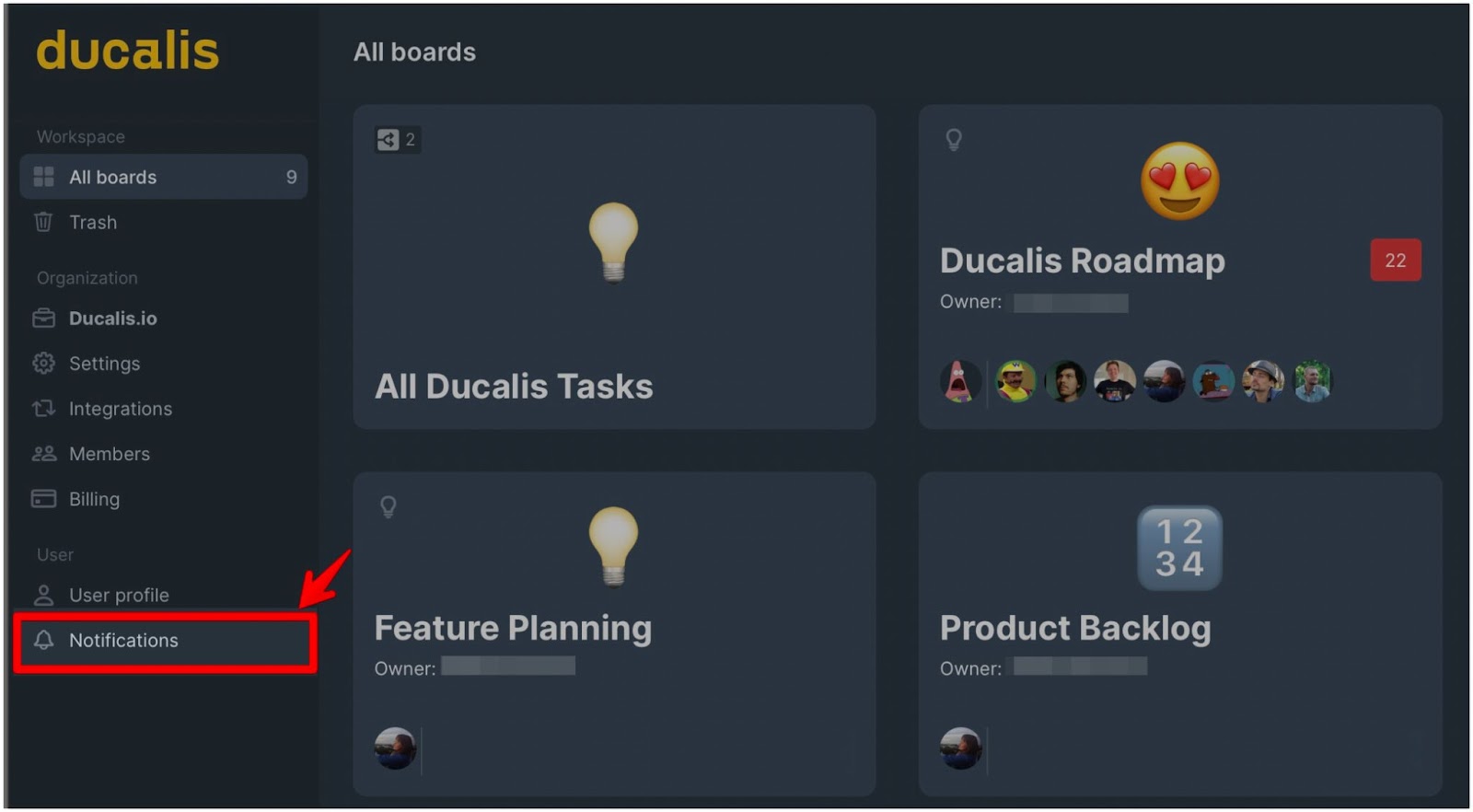 The board. Hover over your mouse to the left bottom corner → click on your avatar → Notifications.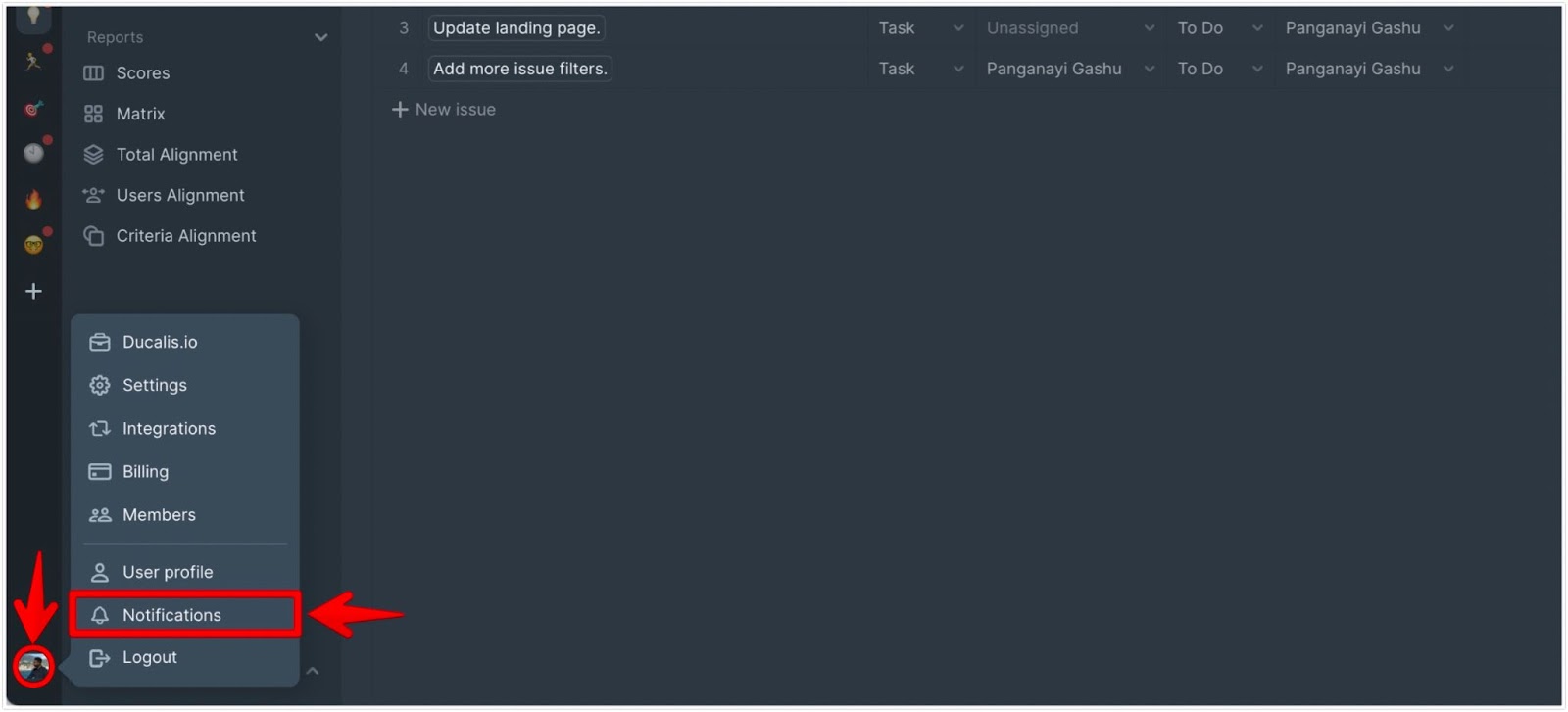 Notifications That You Can Configure
Firstly, switch on the toggle to receive email notifications.

Evaluation Reminders
Personal reminders.
Choose whether you want or not to receive evaluation reminders by switching the notification toggle on or off, respectively. By default, the toggle is on.
Set the time of the day when you would want to get the notifications.
Choose the days of the week when you would want to receive the notifications. By default, you receive them from Monday to Friday at 10 AM in your organization's timezone.

Personal Ping
You can get notifications when a user nudges you to evaluate a task or asks you a question.

Team Reminders
You can also get an email notification with the team's evaluation progress reminder. The email comes at different times for each board, depending on how it is set up by the board admins.

Board Activity
Get notified when you're added into a board.
Idea Created
If you have the voting board switched, you can receive email notifications for every idea created in the board and every comment on an idea.

Board Settings Changes
Get notifications for any changes in the board settings like criteria and board formula.

Reminder To Resend Invites
If you're an admin, and you invite someone to your board, and they do not respond. You have the option to get an email notification reminding you that the person you invited hasn't responded, and you might want to resend the invite.

Issues Activities
For issues that you are watching, you can get email notifications on any updates for those issues. You can even choose to get email notifications for issues you're not watching.