Enhance your product by seamlessly embedding a Voting board, engaging customers, and making them feel at home.
Board Customizations
Make Ducalis feel more like home with your brand colors and imagery.
Choose the board and make sure it is published.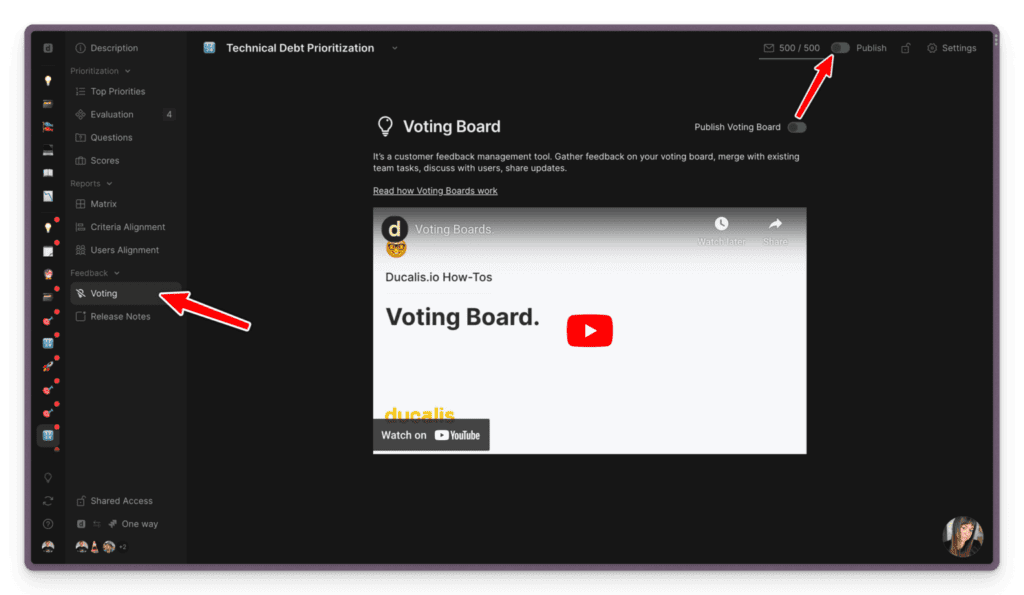 Access the settings and customize your voting boards.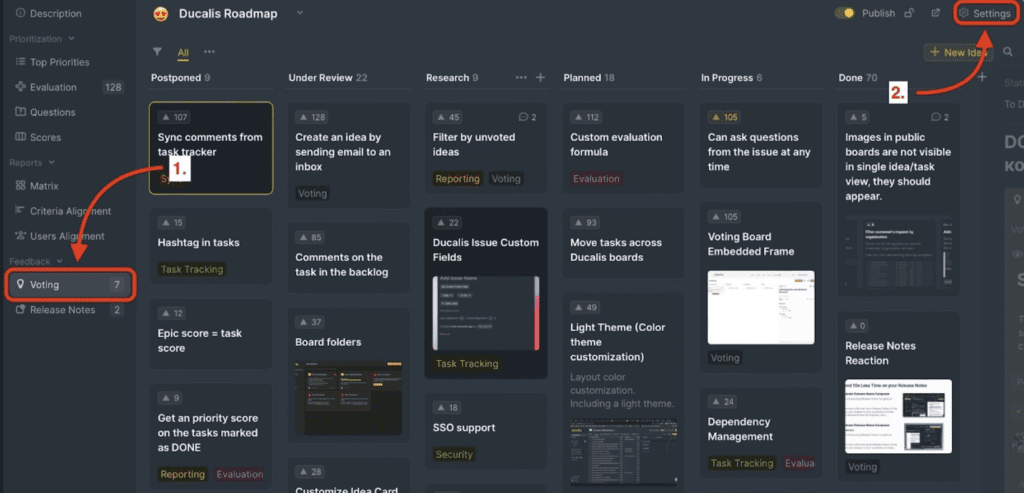 Learn more how to customize Appearance.
Learn more how to customize boards' languages.
Automatic voters' authentication (SSO)
The Voting Board can instantly recognize your users, eliminating the need for them to enter their email and confirmation code separately to log in. This feature offers significant benefits for both you, the administrators of the Voting Board, and your customers:
Enhanced user experience for voters with streamlined login process.
Ensures accurate and up-to-date voter data, minimizing the risk of your clients unintentionally logging in from a different email account.
Read how to set up Single Sign-On (SSO) For Authorizing Users On Voting Boards.
Collect custom user parameters
When gathering feedback, the context of the voter is crucial. Is the request coming from our own client? How long have they been using the product? What pricing plan are they on? And so forth.
You can create and pass the necessary user properties for future feedback segmentation.
Read how to Add Voters Custom Data Fields.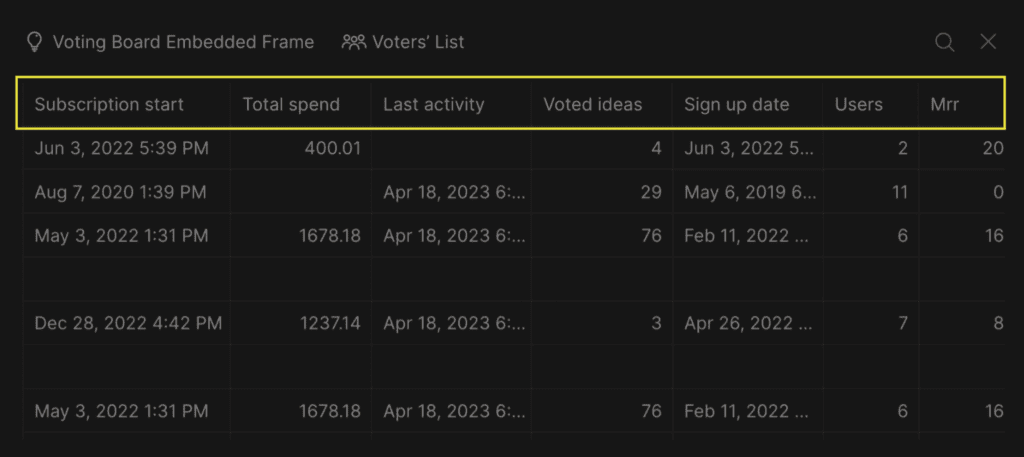 Filter Feedback Using Voters' Metadata
You can filter feedback using your customers' metadata like a company's name, whether they are paying or not, and how long they have been a customer.
Learn how to filter users' data.
Embedding a board into Your Product for Seamless User Experience
Embed routing functionality within your product so that users can directly access the routing board from their product dashboard, making it appear as a seamless integrated application.
Read how to embed a board.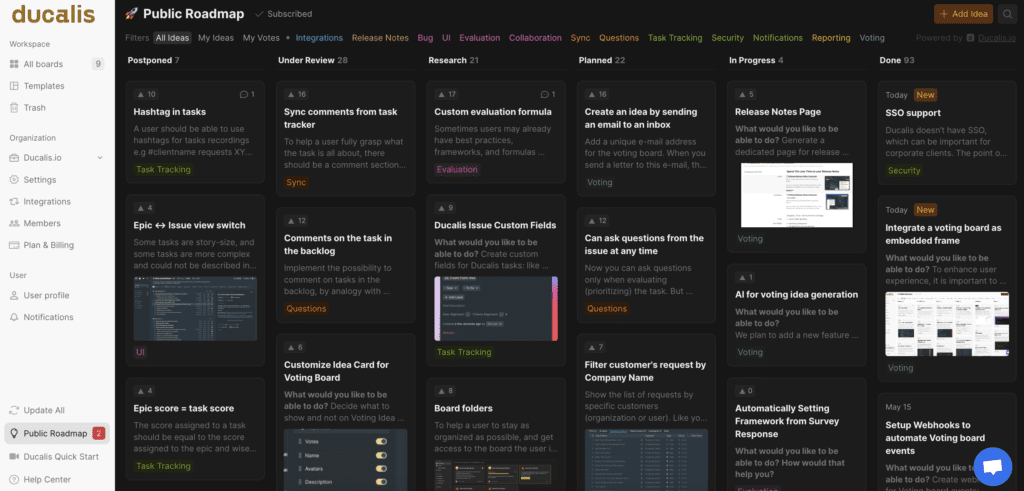 Displaying the "What's New" Widget
Elevate the user experience of your product and marketing websites by seamlessly integrating a "What's New" widget. This widget will serve as a notification system, highlighting and displaying newly completed requests from the Voting board, keeping users informed and engaged with the latest updates.
Read how to Embedding & Customizing Changelog Widget.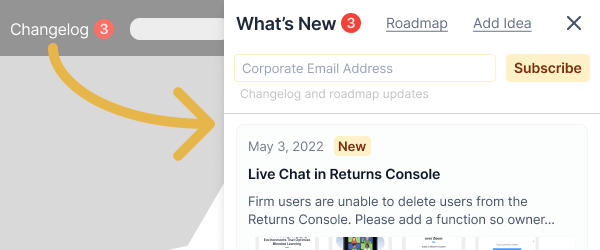 Automatic Subscription to Release Notes
One of the most valuable features of voting boards is the automation of release notes. This includes an auto-digest of completed requests, highlighting what is currently being worked on and what has received the most votes. This allows you to engage loyal product users in the development process, encourage them to suggest improvements, keep track of their request statuses, and vote for others' requests.
Instead of repeatedly importing lists of new active users from your product, we enable automatic subscription to release notes. This ensures a seamless experience for your users, allowing them to stay updated without any disruptions.
Read How Customers' Subscriptions To Release Notes Work.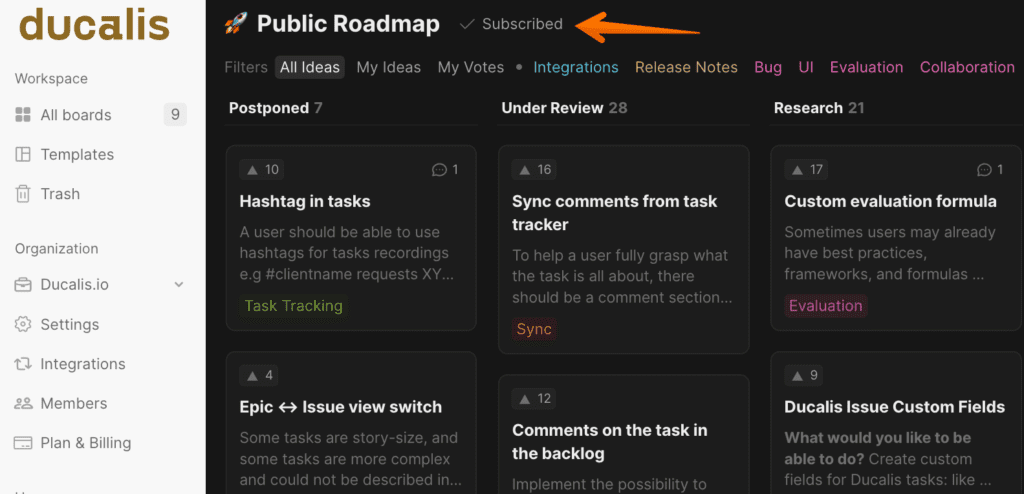 Synchronization of Unsubscribers
The API for unsubscribed voters serves the important purpose of enabling Voting board administrators to adhere to email communication laws. Within voting board emails, users are provided with an option to click on an "unsubscribe from all notifications" link, indicating their preference to stop receiving emails on that specific topic.
To ensure a seamless user experience, it is highly recommended to synchronize the unsubscribe data with the primary email delivery platform. This synchronization guarantees that the entire process appears smooth and uninterrupted from the user's standpoint.
Read about API For Opted-Out Voters (Unsubscribed)
Connect Your Custom Email Domain
This is necessary for a unified user experience for your users. Since they have authenticated and provided personal data to your organization, it is only logical that they receive emails from your company's email domain.
Read how Send Release Notes From Your Own Domain.
Without this configuration, all communications will be sent from the address mail@ducalis.io. Subsequently, the domain will appear as your@mg.company.com.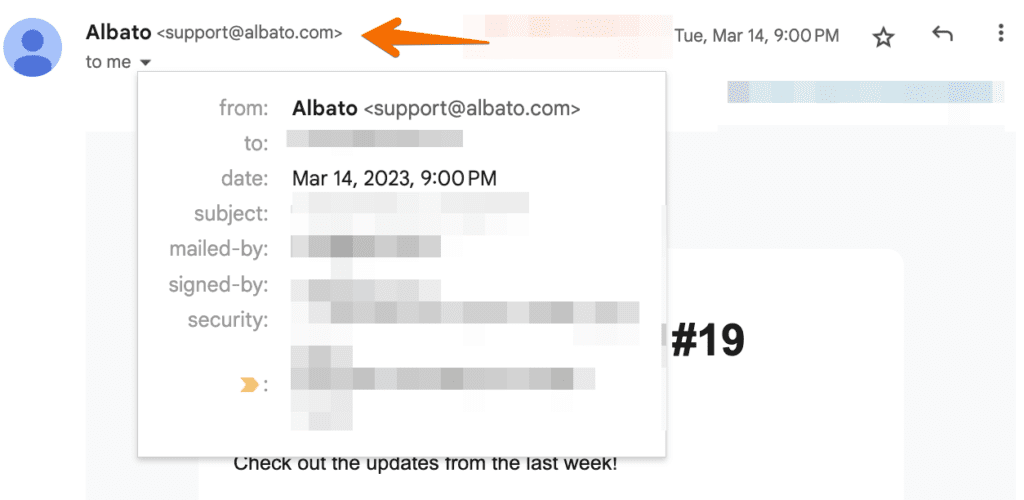 By completing all these steps, you will obtain an automatically functioning voting board with auto release notes and digest and engaged users.
For any help and questions just chat with us, or book a demo.